Summer Newsletter…Hot off the Press!
---
Fayette County Board of DD
2019 Summer Newsletter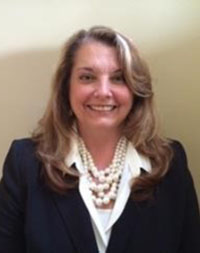 A Message from the Desk of Superintendent Deb Buccilla:
This edition of our newsletter is dedicated to Caryl Wagner Bookman who unexpectedly passed away in early July. Caryl would have loved receiving this newsletter. She always enjoyed reading about the events and progress of those we serve. She loved the Dragons and recently indicated she was interested in volunteering in our preschool for the upcoming school year.
Caryl spent 12 years as a Board member, served on various committees and levy campaigns and most recently was serving as a member of the DD Endowment Fund Committee.
Caryl has been a lifelong supporter of DD causes. It was personal to her, having a brother with DD, although knowing Caryl, it would have been important regardless. Caryl was a kind and loving soul, a friend's friend and a vocal advocate for those unable to advocate for themselves.
Caryl loved children and her family, especially her husband Roger, brother Tommy, sister Pat and her family. We also felt this love at FCBDD.
So, to Caryl we say, enjoy this newsletter from up above, please look down and guide us, helping all of us to be better human beings.
We will miss you Caryl.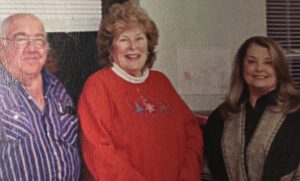 Sometimes eating can be a tricky thing for both children and adults!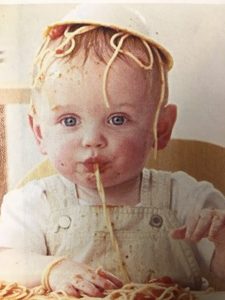 Eating encompasses; nutritional aspects (foundation for growth and development), psychosocial aspects (significant impact on relationships), medical aspects (coordinate breathing and swallowing and maintaining motor control), and feeding aspects (complex interaction of our body, mind, and emotions). Some things to consider when determining if there is a problem or a need to look further: weight loss, coughing or choking while eating, gaging, vomiting, difficulty with certain textures or foods, pocketing of food, wet sounding voice, or food/eating refusals.
A positive experience with eating starts early and is fun! Consider the following progression of eating: tolerate food being present (in the room or on the plate), interact with food (fingers/utensils), smell food, touch food, taste food, and finally…eat food!
In Early Intervention we work with families in their home or wherever they want us to meet them. This allows us the opportunity to see how eating and feeding look like in families' everyday routines. This permits us to intervene and help early so we can develop patterns, behaviors, and safe eating.
Submitted by Elaine Statti
Summertime Fun!!                                            

As a kid, nothing is better than having summer freedom to choose what you want to do and what you want to eat. As an adult, summer is a great time to eat real, whole foods and encourage your family to join you. Fresh fruits and veggies are plentiful, and Fayette County has an amazing Farmer's Market downtown every Saturday to supply those of us who don't grow our own gardens. You are never too old to have a little fun with your food and keep it healthy while you get creative! Most people have access to the internet in some way, either by phone, tablet, or at our local Carnegie library. If you would like some ideas for healthy fun snacks that kids and adults both can enjoy there are numerous ideas on Pinterest and Instagram to choose from. Check out the website: "Kitchen Fun with My 3 Sons." Explore and Enjoy for Summertime Fun!
Submitted by Jan Cobb
Success Story
When I set out to write a "success story" article, so many possibilities presented themselves to me that I began to feel overwhelmed and wondered how I would ever narrow it down to a singular story that exemplifies the kind of success that can be achieved via the catalyst of a solid early intervention and preschool program. As I deliberated, the solution became clear, "Mom, do you think those clouds outside will develop into a supercell? I can see a dark cumulonimbus shelf cloud in the western horizon. I wonder if we'll learn about weather patterns in kindergarten. I'll have to tell my new teacher that I'm studying to be a meteorologist."
And that was it. I'll begin with the boy who started it all for me. It's quite an incredible journey that this boy has taken me on, and I'm still along for the ride. Arthur is my son, and he is one of the most singularly unique human beings I've ever had the pleasure of knowing. At age two, Arthur was entirely non-verbal and was working in the Early Intervention program with FCBDD to even be able to produce a single utterance. By age three, Arthur had graduated from the Early Intervention program and was set to start preschool. He was able to read, recite the presidents in sequential order, and could say the alphabet backwards in less than 45 seconds without pausing for breath. He could not, however, answer simple questions like, "What did you have for lunch?", he was almost entirely unable to relate to his peers, and was prone to sensory meltdowns. I was terrified. It was a feeling that reverberated through me and brought about a sense of daily dread that I worked deliberately to hide from everyone in my world, especially Arthur. Fast forward to today. The three lovely years of preschool at Fayette Progressive have end, kindergarten looms in the future, and Arthur is asking me about potential meteorological curriculum for the fall as he journeys into the world of elementary school. I keep waiting for the terror to hit—keep expecting the return of those anxiety-ridden sleepless nights where I relentlessly analyze my child's future, worry over how he'll cope with all of the upcoming changes on the horizon, and fret over what more I can do as a parent to help facilitate this transition in a way that helps him succeed.
Here's the thing: the terror, anxiety, sleepless nights, and uncertainty are all on hold. My son has had four solid years' worth of experiences, love, resiliency, patience, growth, and encouragement starting in the Early Intervention program and ending as he graduated from Chaela's preschool class with the distinction of "Most Likely to Win the Pulitzer Prize." Arthur will tackle the upheaval inherent in transitioning to kindergarten by implementing all those skills that he's been given over the last four years. He's got a rock-solid foundation of love and is truly ready to meet any unknown obstacle with perseverance and a kind spirit.
So, here's the success: I don't have to worry anymore about Arthur. (Or, I should say, I can worry about Arthur in the same way most parents are able to worry about their typical kindergarteners. I no longer fear that he won't be able to meet the challenges of a new situation with success. I just simply know that he will find his way.) This organization has forever changed the trajectory of not only Arthur's future, but our future as a family, as well. We are truly blessed by the many opportunities we've been given through the Fayette County Board of Developmental Disabilities, and I will never forget the many, many kindnesses that have shaped the very landscape in which we as a family have inhabited for almost the entirety of my son's life.
Submitted by: Sylvia Call
Welcome Rana Helms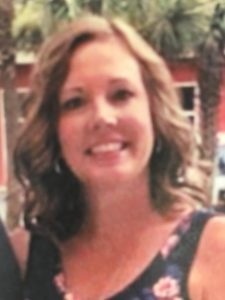 I would like to introduce you to Rana Helms. Rana became a part of our team as Fiscal/ HR Administration
Assistant in April. Rana filled the vacant position that Marilyn Weidman held. Rana has a great deal of accounting knowledge and a customer service background. Prior to working for FCBDD she worked 15 years as a Branch Manager at a local bank and then became the Business Manager/HR at Fayette Progressive Industries for the past 3 years. When she's not working Rana enjoys spending time with her husband, 3 kids, family and friends. She also enjoys a competitive game of backyard volleyball.
Submitted by Lori Moore
Special Olympics
Special Olympics continues to stay busy. The Dragon's Track season has just wrapped up with 15 athletes competing in Track meets in Circleville, Dublin, and Columbus. The Track team, led by coach Ashley, had several people place 1st in various meets and had many places in the top 3! It was a very successful season. The Dragons started their softball season in July with the first ever traditional softball team. This team will consist of only athletes competing. The Dragons will continue to host a Unified tournament and will participate in various Unified tournaments across the state this summer. Unified Softball is a program that assigns Special Olympic athletes and athletes without intellectual or developmental disabilities (partners) to the same teams for training and competition. Everyone is looking forward to competing again this summer!    

Submitted by Tim Stewart
Advocacy
On June 3, 2019, Melissa Havens, Director of the Emergency Management Agency took time out of her busy schedule to attend the FACT (Fayette Advocating Change Together) adult advocacy meeting. It was perfect timing given the season in Ohio. Melissa trained those in attendance on how to prepare for an emergency, specifically tornadoes, as it is tornado season. The group was given a visual idea of what to have in an emergency backpack and the opportunity to ask questions and gain awareness of how to prepare for emergency situations. The advocates are looking forward to the month of August as they will attend a training with local fire department Fire Chief, Tim Downing about household fire extinguishers.
Submitted by Betty Hodges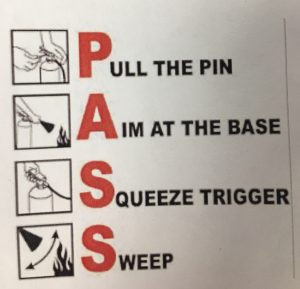 Transition
The Miami Trace High School Work Study Program finished their 3rd year of work-related experiences within the community. The Fayette County Board of DD and the Fayette Progressive Preschool bus drivers provided transportation to and from three different jobsites. Some students improved their work skills, while students new to the work study program, began their work experiences, and learning work skills. An "end of the year celebration/brunch" took place at Heritage Memorial Church. Those in attendance were managers from the respective employers, and some Miami Trace High School staff. A special congratulations to Chris for receiving the Work Experience Student of the Year.
Submitted by Betty Hodges