Preschool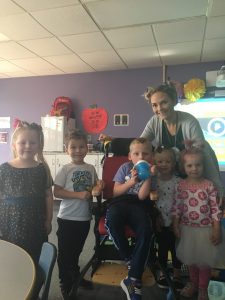 The "young 3 year old" classroom recognizes that students are entering school for the first time and strives to create a fun and safe environment for the new preschoolers.
Many of the students in this classroom have transitioned from our Early Intervention program, so are familiar with the school upon entering and have an opportunity to visit the classroom and teacher before their first day.
Each classroom uses The Creative Curriculum and builds on student's prior knowledge and interests while maintaining an effective learning environment.
Students in this classroom are getting used to rules and routines and using movement and music activities to learn about being a good classroom helper, making friends, and participation.
Studies this class might see through the curriculum include Insects, Pets, Building, Blocks, Balls, and many more.  Various technologies including computers, iPads, and a Tap-It computer system are used to support the curriculum.  The Tap-It system acts as a smart board, but can be accessible for all abilities by standing upright at different heights or turned into a table top design.