Our Mission
We offer quality programs and coordinate available services so that people we serve may realize their dreams and actively contribute to their community.
Welcome!
 You have reached the Fayette County Board of DD website. It is truly exciting to share with you the wonderful programs and services we offer. Contact us if you have any questions, or if you are interested in receiving services from us.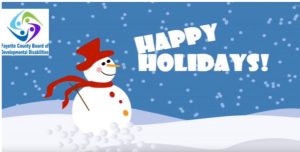 Congratulations!
Buffy Enochs is now a Region 3 representative for People First of Ohio and will sit on the People First board. Click HERE to view the swearing-in ceremony. Congratulations, Buffy!
Fayette Progressive Preschool
Awarded Five-Star Rating
FCBDD is excited to announce that Fayette Progressive Preschool received a 5-Star rating with the Ohio Department of Education's Step Up to Quality rating system.
Step Up To Quality (SUTQ) is a five–star quality rating and improvement process administered by the Ohio Department of Education and the Ohio Department of Job and Family Services. SUTQ recognizes and promotes learning and development programs that meet quality program standards that exceed licensing health and safety regulations.
For the complete press release click HERE.
Congratulations
FCBDD would like to congratulate Harry Wright and Jean Doughty for receiving the 2017 Martha Wagner and Dr. Robert Heiny Community Service Awards. For more information about how you can advocate for people with disabilities and to volunteer your time and talents in any of the programs or services offered, please call 740-335-7453.
 Stable Accounts
To sign up and register, please click HERE.
The Fayette County Board of DD has been around since 1967. We began in the basement of a local church, serving eight children with disabilities. Today, we assist hundreds of children, adults, and families with their education, vocational training, habilitation, transportation, and service coordination needs.