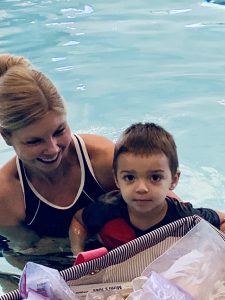 FCBDD strives to offer experiences within the inclusive setting out in our communities. Throughout each year, various activities are planned. For current offerings, please check our homepage on our website.
Fayette County Board of DD's Occupational Therapist is certified in aquatic therapy and we partner with the YMCA to offer this to our Early Intervention children and parents.
Fayette County Board of DD is a member of the Family and Children First Council and also participates in CORE, Children Offered Resources Early; both collaboratives in the community that enhance and expand on services for Fayette County children.
Fayette County Board of DD is proud to partner with Miami Trace Local Schools to provide volunteer, internship and work readiness opportunities to youth transitioning into adulthood.
The BREATHE (Bringing Respite, Education and Awareness To Help Every family Thrive) program, is from the Strong Families Safe Communities Initiative designed to provide support to youth ages 8-24 considered "at risk" of causing harm to themselves or others due to mental illness and or a developmental disability. In collaboration with the Ross County Board of DD and the Pickaway County Board of DD, the focus is to bring community awareness and involvement, respite and support, and ensure access to crisis intervention services.