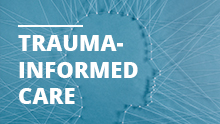 Trauma in persons with developmental disabilities
About 70% of developmentally disabled people report being physically and/or sexually assaulted, neglected or abused (Columbus Dispatch, 2015)
About 90% of the people reported multiple occurrences (Columbus Dispatch, 2015)
One out of every three children and adults with developmental disabilities will experience abuse in their lifetime (Envision 2014)
More that 90% of the time, that abuse will be inflicted by the very person they rely on to protect and support them (Envision 2014)
Trauma (Dictionary.com):
From the Greek, "trauma" = wound
A body wound or shock produced by sudden incident, as from violence or
accident.  An experience that produces psychological injury or pain.
Individual trauma results from an event, series of events, or set of circumstances that is experienced by an individual as physically or emotionally harmful or threatening and that has lasting adverse effects on the individual's functioning and physical, social, emotional, or spiritual wellbeing.
For more information about Trauma Informed Care, visit the links below or contact Cheryl Binegar, Certified TIC trainer through the joint DODD and Ohio MHAS TIC Curriculum. Cheryl is available to provide trainings to other agencies. Contact Cheryl at 740-335-7453.
REFLECT, HONOR, CONNECT TOOL
This tool, created by the Pioneer Center, can be used to guide how to be supportive in a trauma-informed way using the "reflect, honor, and connect" method of communication. Use this trauma-informed tool to support people to help them feel connected. REFLECT: Reflect back what you heard the person say or feel, or what you are seeing from their actions.
TRAUMA INFORMED FAMILY ENGAGEMENT SERIES
Programs and Initiatives. This is a list of the Trauma Informed Family Engagement series.
5 THINGS TO KNOW ABOUT TRAUMA INFORMED CARE
Sarah Buffie from Soul Bird Consulting explains five things you need to know about trauma and how trauma memories are stored in the body.